Triaxis are a British Heavy Metal band from Cardiff, Wales.
"A genuinely creative spark and passion... bringing to mind classic Priest, mid-era Megadeth and Testament, intricately woven together with a taught melodic thread"
ZERO TOLERANCE
"A big hit at this years Bloodstock Festival... far too good to languish in self-sufficient obscurity. A confident and charismatic debut.
Vocalist Krissie has the range and melodic intelligence of Heart's Ann Wilson, but with more than a dash of Dio's dramatic power"
METAL HAMMER
In an age when so many bands come and go as they jump on the latest trend, Triaxis stand out as a bastion for timeless Heavy Metal. Memorable tunes, delivered with a passion and confidence that only a seasoned group of musicians can possess, have cemented their place at the head of the UK's resurgent Heavy Metal scene. Their EP Lord of the Northern Sky was released in August 2008 and has since sold out following its unprecedented and exceptionally positive reception from fans worldwide.
Following the success of their EP, Triaxis self-released their debut full-length album Key To The Kingdom in August 2009 to widespread critical acclaim, including plaudits from Metal Hammer, Terrorizer, Zero Tolerance, and many other magazines, as well as glowing praise from many leading music websites. They have also made numerous radio appearances, including airplay on Bruce Dickinson's BBC Rock Show.
Triaxis excel in live performance and have gigged across the UK, including a headline-grabbing set on the unsigned stage at Bloodstock Open Air 2009.
After a successful UK wide tour in late 2010, Triaxis are currently writing new material due for release in 2011.
Triaxis are Krissie Kirby (Vocals), Glyn Williams (Lead Guitars), Clare 'CJ' Hale (Rhythm Guitars), Owen Crawford (Bass), Giles Wilson (Drums).
Triaxis - Key to the Kingdom (Self released)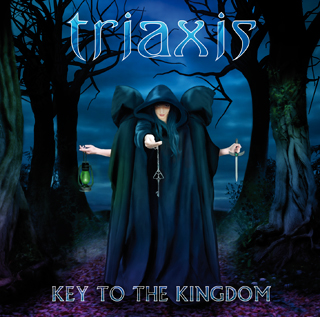 Key to the Kingdom is distributed by Code 7 / Plastic Head and can be purchased from Amazon UK, Amazon USA, HMV, Play or directly from the band at their Merchstore.
Avaliable to download from: Amazon UK, Amazon USA, ITunes and most online outlets.
The album is also free to listen to on Spotify.
----------------------------------------------------------------------------------------------------------------
Myspace:
www.myspace.com/triaxisuk
|
Facebook:
www.facebook.com/triaxis
|
Twitter:
www.twitter.com/triaxis
Merch:
http://triaxis.bigcartel.com
|
You Tube:
www.youtube.com/triaxisTV
|
Website:
www.triaxis.info
Band contact:
band@triaxis.info
|
Booking & Press:
management@triaxis.info